May 10th, 2005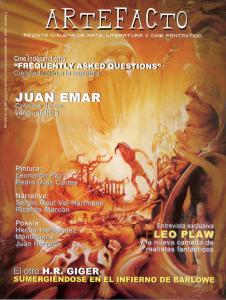 I was surprised when I was contacted by the editors of Artefacto, a magazine published in Chile. I wasn't expecting interest from countries that don't speak English. However the wonders of internet cross many boundaries.
Artefacto features my artwork "Thoth" on the cover (image right) and an interview and further images inside.
The magazine also includes articles and artwork form Chilean artists. It was begun as project by a group of university friends who felt that Chile was lacking an outlet for their tastes in the arts.
More information about the magazine can be found on the following sites:
lacasatomada.webcindario.com
www.elsur.cl
RSS feed for comments on this post. | TrackBack URI
Leave a comment
There are no comments yet.

Log in or Register to post a comment.
Other news posts