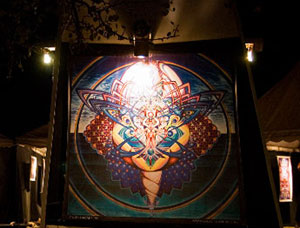 I'm off to the Boom Festival next August in Portugal to exhibit with other Visionary artists. This August 11-18th marks the 6th. incarnation of the Boom Festival, a massive global trance culture gathering. For the third time at the Boom Festival, the Liminal Village returns presenting the Vision Gallery.
The In:sights Exhibition is a global collection of visionary artworks celebrating the inspired imagination and reflecting the beauty of our world and of many worlds beyond.
24 artists have been gathered from around the world. Amongst them will be a number of artists I have only ever communicated with via email but I will now meet for the first time face to face. I am very much looking forward to the exchanges.
The exhibiting artists are as follows:
Europe
Laurence Caruana, Leo Plaw, Dennis Konstantin, Luminokaya, Brigid Marlin
South America
Pablo Amaringo, Isabela Hartz
Asia
Satoshi Sakamoto, Luke Brown, Symbolika
Oceania
Andy Thomas, Jarah Tree
Africa
Anton Kononov
North America
Roberto Venosa, Martina Hoffmann, Carey Thompson, Simon Haiduk, Victor Olenev, Kathryne June, David Heskin, Andrew Jones, Maura Holden, Xavi, Nemo