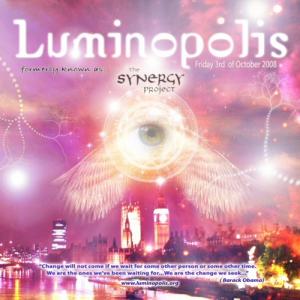 This week I return to London to exhibit my artwork art at Luminopolis with Jarah Tree and Luke Brown. Alex Lee who works with the event had seen my artwork in the Liminal Village at the Boom Festival and invited me along to Luminopolis.
Its a funny twist of events as I had long intended to make contact with the Luminopolis (formerly known as the Synergy Project) crew while I lived in London, and I had no idea that I would be crossing paths with Luke so soon again after the Boom Festival.
Luminopolis is an indoor festival, combining musicians, Djs, Vjs, performers, and artists from all corners of creativity, joined by various proactive NGO's and charities with the expressed aim to make a difference.
The events gather some of the UK's leading creative multimedia organizations joined by international NGO's such as Oxfam, Survival, Speak, Ecoshelter, WDM, Down2Earth, Greenpeace, Campaign Against Climate Change to provide just the right mix of open hearted enjoyment and meaningful reflection for a new direction.
Luminopolis re-invented the clubbing experience by transforming it into an 'educational' tool, associating healthy values of sustainability and social justice to strong role models such as respected artists and performers of the entertainment industry.
The event is on Friday the 3rd at the SeOne Club, located on Weston Street under London Bridge Tube Station.
More information on the Luminopolis website: luminopolis.org