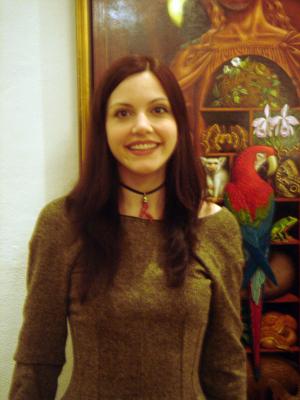 Wait long enough, and the world will come to you. So it seems now living in Berlin. When I had been here years ago, it seemed that Berlin was a hostile ground for Fantastic art, being dominated by all that was contemporary and conceptual in art. Then slowly over the years Berlin has surprised me with a number of exhibitions and artists.
So it was with much anticipation that I awaited Madeline Von Foerster's exhibition at Strychnin Gallery. Writing about Madeline's artwork "Amazon Cabinet" was some of the first contact I had with her before her arrival in Berlin. Like many of those in our growing and increasingly intertwined network of Fantastic Visionary artists and supporters, our contact is virtual via electronic communications. Increasingly, this is facilitating real world convergences, from exhibitions in Japan, to painting workshops in Italy and books, such as Metamorphosis 2 in which Madeline will appear.
Madeline's exhibition was already bustling with people when I arrived just after it opened on Friday evening. So I had to be patient and await an opportunity to say hello to the effervescent Madeline who was of course the center of attention with her artwork.
Having worked a good part of a year on her exhibition, a number were already sold before the opening. Madeline's artwork exhibits fine painterly skill and technique much like that of the Old Masters. So much so, the German customs officials thought that antique paintings were being smuggled into the country.
After having studied art at the Californian College of Arts in San Francisco, she later expanded her knowledge to more classical techniques when she studied with the Misch Technique with Philip Rubinov-Jacobson at his painting workshops in Austria. The technique is very labour intensive and requires a certain amount of obsessiveness. I joked about this with Madeline as she was often that evening inspecting her paintings for dust and duly wiping them down. Upon asking her if she was the cleaning lady or the artist, and commenting on her obsessiveness, she gestured towards one of the paintings, indicating that this inclination was impart neccessary to create such artwork.
The painting "Amazon Cabinet", which the focus of her fastidiousness in that moment, had sold at the Art Fair 21. The new owner however had been gracious enough to loan the painting back again for the exhibition as formed the center piece. Madeline is obviously very proud of the piece as it features in many of the recent photos of herself.

Her painting is one of a new series titled "Waldkammer" (Forest Cabinet). The idea came to Madeline one day while in her studio while contemplating her antique cuckoo clock.  She was thinking of the living tree was that cut down to make this curiosity that now hung on her wall. This led her to explore the phenomenon of the Cabinets of Curiosities, or Wunderkammern.
The concept of such cabinets was originally an invention of the age of Enlightenment and the Baroque, where wealthy lords and patricians created collections of a wide variety of objects displaying the multi-faceted "wonders" of God's creations, especially from exotic colonial territories. Coral, minerals, taxidermy, and the like – were lovingly and often fetishistically contained and displayed. These went on to form the basis for many natural history museums, and the approach of science to categorize things and place them neatly in their boxes.
The "Waldkammer" series consists of nine paintings that explore humanity's often destructive relationship with nature and the crisis of deforestation in particular. These painted wooden cabinets allude to the once-living trees that were their source: Some are carved into the shape of women personifying the trees as living things. Meanwhile, the "curiosities" displayed are actual species, dependant on the trees for survival.
Madeline's exhibition catalogue goes into much more detail about each individual piece and the animals and plants represented therein. The catalogue was printed though print on demand (POD) with Lulu.com. I have noted a growing number of artists taking advantage of this cost effective option to bring their artwork to print. I of course purchased a catalogue and had it signed. Her signature is almost as much a work of art as her paintings.
One can be drawn into Madeline Von Foerster's detailed and finely executed curiosities of her "Waldkammer" series at Strychnin Gallery Berlin from November 7th until December 7th.